Access All Areas - What is it about?
In July 2022, we invited an exclusive group of decision makers across the UK to a day of sailing and navigating new horizons.
In October 2022, we spent a day off-road driving and navigating new customer terrain, as we explored the changing expectations of Generation Z.
Now on March 9th, 2023, Access All Areas returns for its third installment to London's legendary Groucho Club, for an evening of food, drink, and discussion on the role of AI in marketing!

Fill out the form on this page to receive information about future events in this series.
Access new skills, new ideas and new customers.
Access All Areas operates the Chatham House Rule: a safe space to explore ideas, share professional experiences, and access knowledge shared by the group and our invited experts on the topic of the day - the role of AI-generated content in marketing.
Will AI replace human creativity and judgement? How can you use AI to enhance your organisation's marketing? As a leading voice in your industry, these are questions your presence would greatly contribute to. Designed for a select group of professionals interested in the future of marketing and the role AI will play in shaping it, there are limited places available.
Meet like-minded peers, discuss the topic of the day, share experiences, and gain insight from invited experts. The day is informal, engaging and fun, with the chance to challenge yourself by exploring a new topic.

Note: You can fill out the form to express your interest. However, to ensure the exclusivity of this event series, we cannot guarantee an invitation.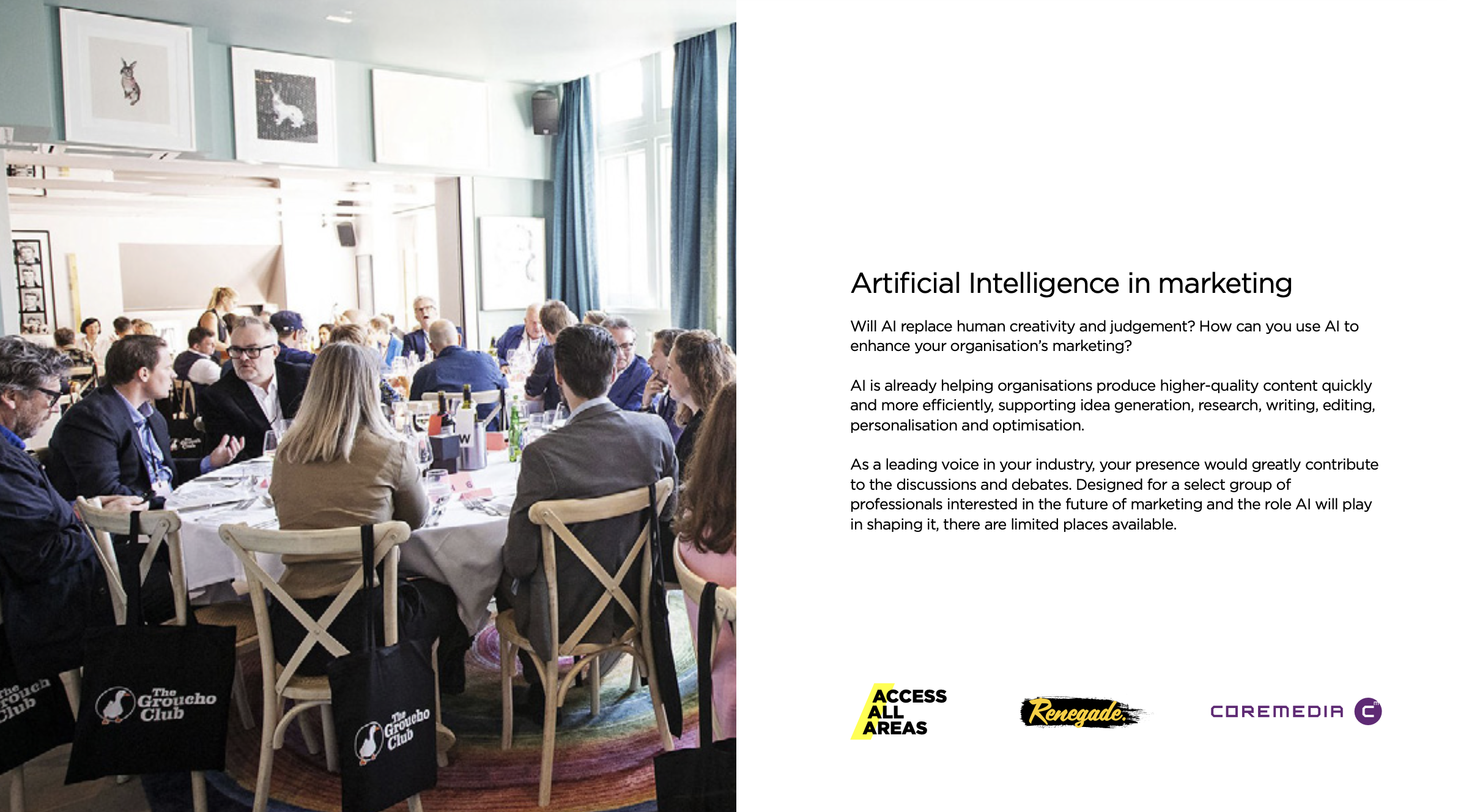 CoreMedia
With more than 25 years of experience, CoreMedia is the content management engine behind today's most iconic online brands. Our flagship product, CoreMedia Content Cloud, is a flexible, headless Content Management System (CMS) and advanced Digital Asset Management (DAM). We integrate with all leading eCommerce solutions and enable leaders in all industries to orchestrate personalized, digital experiences.

Renegade
Enterprise technology and data skills, combined with serious big idea brand, content, and digital channel expertise. An antidote to juggernaut consultancies and inattentive one size fits all agencies, you'll get hard-working collaborative partnerships with experienced, like-minded people. Work smart without compromising quality, sophistication or effectiveness.
Companies that love CoreMedia: